Imagine you're going about your day as usual. Maybe you just made a meal for your family? Or you're getting ready for work, watching TV, or playing with the kids.
Suddenly you realize something is off. Your best buddy, who lives up to her name of Shadow, is always nearby. But, after searching the house top to bottom, she's nowhere to be found. Then panic sets in.
This is what happened to Maria when Shadow somehow managed to slip out the door of their house. When she realized she was missing, Maria began frantically searching the neighborhood for her beloved companion. A group of kids she spoke to reported they had just witnessed a dog being hit by a car.
In that moment, Maria's heart shattered.
Meanwhile, Maricopa County Animal Care & Control field officers responded to a call about a dog struck by a vehicle. It was Shadow. Their officer arrived to find her small body pinned between the car's grille and radiator. Extracting her was no easy feat, but once freed they rushed her back to the shelter clinic.
Miraculously, Shadow had only suffered a broken leg! She was stabilized with a splint, but they knew she would need further care. Thanks to a microchip, Maria was contacted and rushed down to the shelter to find her loving lapdog alive.
The flood of relief Maria felt knowing Shadow would survive was overwhelming. Can you imagine?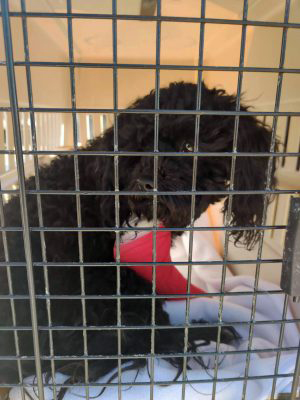 Shadow required expensive surgery to repair her leg but with the help of compassionate supporters like you, The Arizona Pet Project and Two Pups Wellness Fund were able to cover the veterinary costs and also provide spay and neuter surgeries for Maria's other two pets to keep everyone healthy!
Shadow was soon reunited with her mom to begin her road to recovery, at home with her family right where she belongs.
Together, we support families and save pets.