Puppies like Baby, who YOU helped this month, deserve a second chance at a long, happy life with a family who can unconditionally love them!
Please join us in congratulating Wanda, one of our awesome clients, for becoming a dog mom and adopting Baby from the shelter!
Wanda tells us she rescued her dog named Baby when she learned his first family surrendered him to the shelter because he was "too much" for them to handle caring for a new puppy. As heartbreaking as that sounds, we are SO thankful for kind and compassionate people like Wanda who adopt shelter pets and give them a second chance at a loving life!
We are also thankful that Baby's first family realized they could not properly care for him and brought him to a shelter where would be safe and have a chance at finding a new family. If you ask us, it actually feels a little like destiny. Look at the two of them together! 
Wanda knew in her heart she could give Baby the life he deserved, but first, she needed a few things to get him comfortable in his new home!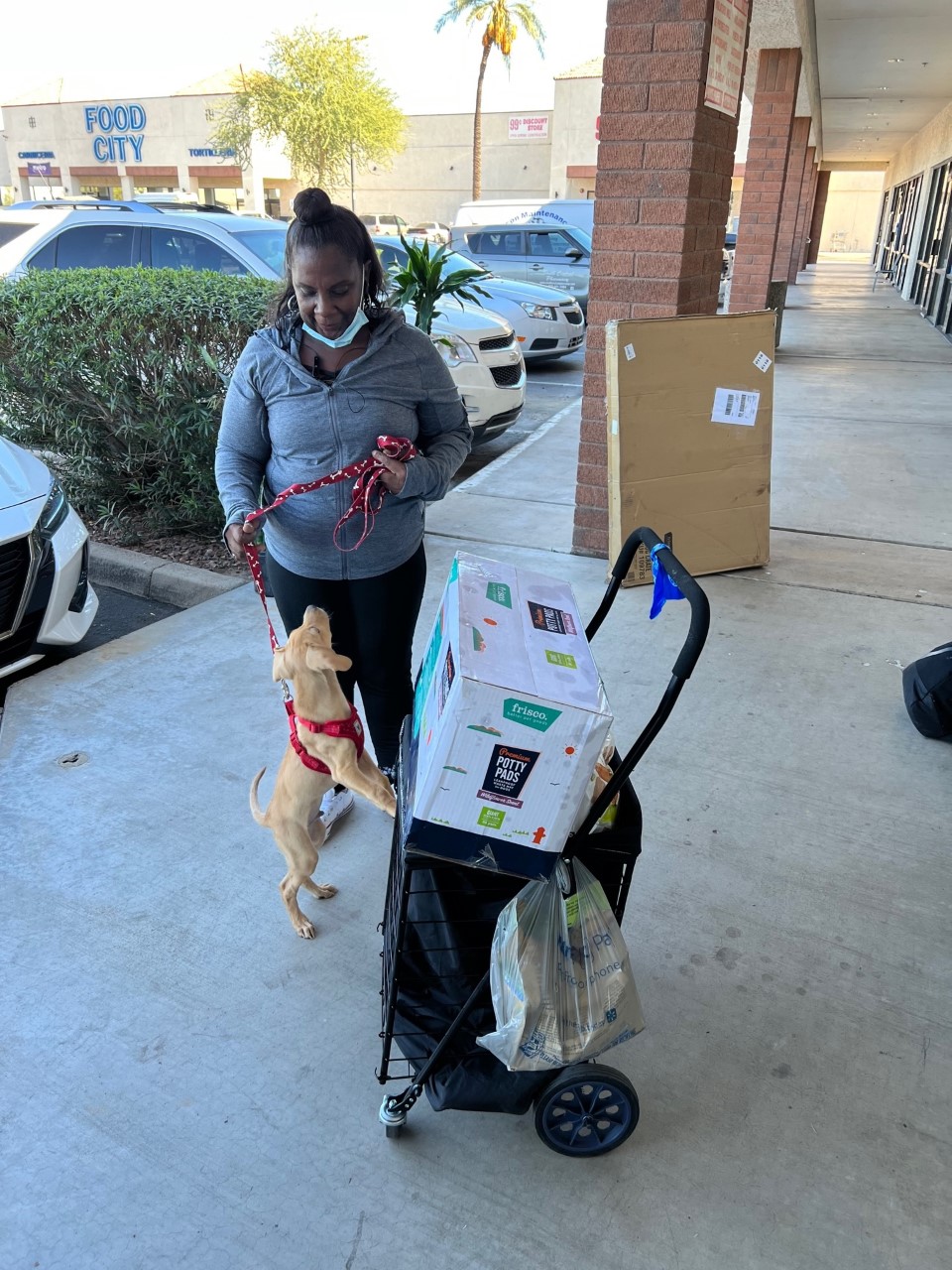 Wanda reached out to The Arizona Pet Project and asked if we could help set her up for success with a dog crate. Thanks to generous donations from people like YOU, we happily obliged! In addition to providing Baby with a crate for his new home, we also made sure he had extra dog food along with some pee pads for potty training.
Since opening our resource center this spring (the first of its kind in the Valley), we've helped hundreds of cats and dogs along with their favorite humans by providing needed pet items like food, leashes, crates, training tools, and more.
In addition, we are also providing life-saving vaccines and preventative spay/neuter through our community clinics that take place right outside in the parking lot of our resource center each and every month!
Every time you choose to support The Arizona Pet Project, you provide people and pets with a second chance to ensure they live happier, healthier lives and keep loved cats and dogs out of our Valley's crowded shelters.