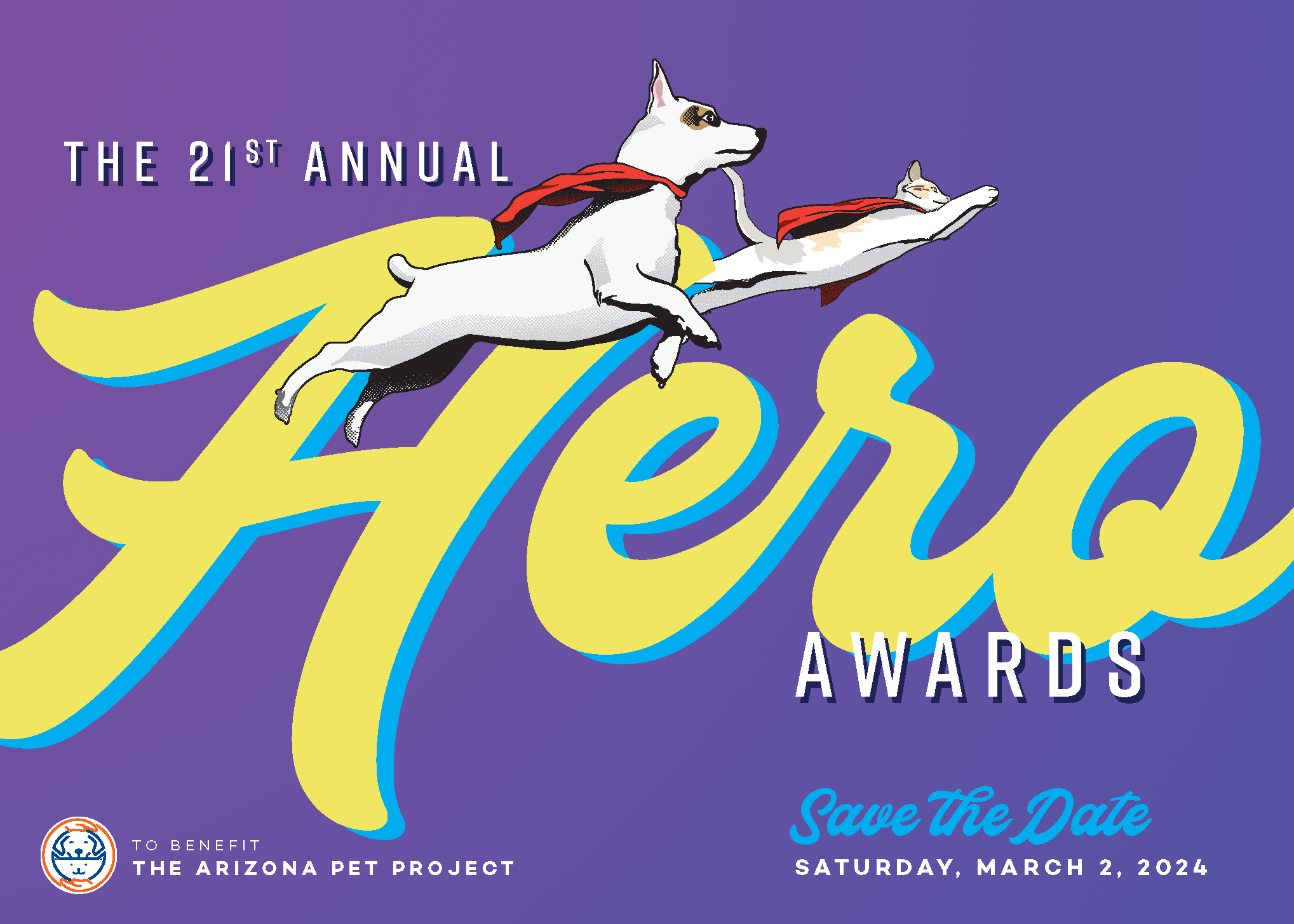 HERO Awards on March 2, 2024 at the Omni Montelucia Resort & Spa
What are HERO Awards?
A HERO Award nomination recognizes and honors the impact animals have on our lives through truly heroic efforts of service or personal survival. These animals may have acted to save the life of a person, performed services within the community, or overcome their own devastating circumstances to survive against all odds and thrive.
If you know of a dog or cat in Maricopa County that you would like to nominate for this prestigious award, please fill out the following information to submit your HERO Award nominations.
Winners must be available to attend the Hero Award Event on March 2, 2024, where they will receive their awards.
Online entries must be received by November 17, 2023.
Here are criteria definitions that our selection committee will use to determine our HERO Award winners:
Animal HERO
This is for animals that have saved or protected a person, describe the events that led to the situation. How exactly did the animal respond to the situation? What is the relationship between the animal and the person saved? What did this heroic act mean to the person saved? (We encourage war heroes and law enforcement animals to apply).
Service to the Community HERO
For animals that have performed services within the community, please include information as to how the animal's contributions have benefited the community. How did the animal get involved? How does it make you feel for your animal to help the community in this way?
Animal Survivor HERO
Describe the circumstances under which you came across the animal. What were your initial thoughts? How did the animal respond to you? What were your feelings through the experience? How has the animal's behavior, temperament, and personality changed upon meeting you? What sets this dog or cat apart from others who have suffered from abuse, neglect, or major injury?
Loyal Companion HERO
This is an animal who acted in an extraordinary way and stayed by their loved one's side during a difficult time (such as a person with a terminal illness, or provided comfort during the passing away of a spouse or family member, etc.)